This article will explain the process for integrating BDC Central with DealerSocket
With DealerSocket Integration, we can now push your fresh, Sales and Service leads that come through your inbound tracked calls in BDC Central to your DealerSocket CRM.
NOTE: Currently only "Fresh" Leads will be sent to the CRM
The following lead information will be pushed to your CRM:
Call Type

Agent Name

Result

Call Summary

Call Recording
Watch the informational webinar on-demand now: DealerSocket Webinar
If you would like to integrate BDC Central with DealerSocket, please fill out the attached request form and either send to your Account Manager or technicalsupport@bdcexperts.com
NOTE: If you are requesting for multiple stores, and the dealer group has a corporate executive that is authorized to sign the Interface Request Form on behalf of all dealerships, then only one signed form with the names of all stores on it (or attached) is sufficient. If not, then each individual store will require a signed request form.
Here is an example of the form that needs to be filled out. Please fill out all highlighted areas: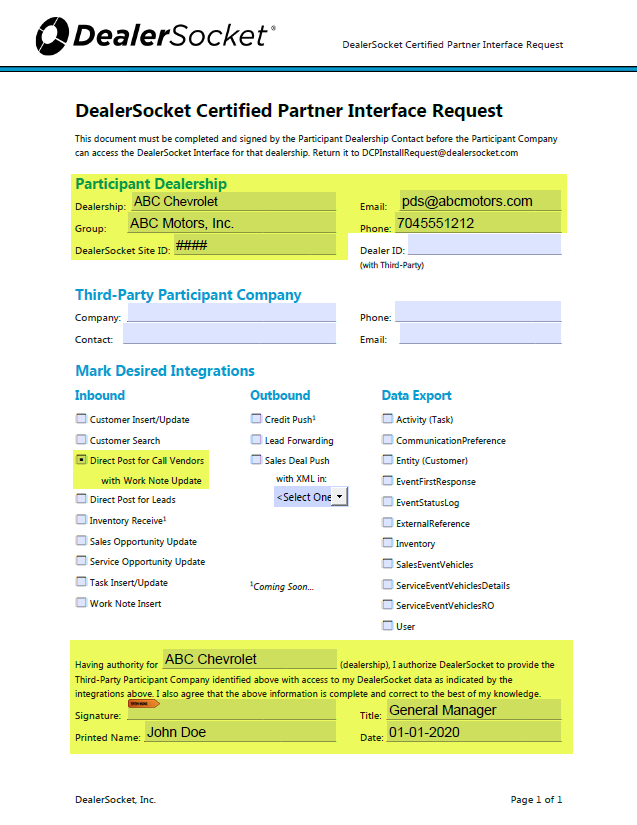 Once we have the authorization form, we will submit to DealerSocket to complete the integration. Please allow up to 15 days for DealerSocket to complete the request.
You will be notified once installation is complete.