Customers now have the ability to integrate BDC Central / CallerCX with eLead.
With eLead integration, we can now automatically push your inbound calls from BDC Central / CallerCX into your CRM.
IMPORTANT: At this time, we are pushing Inbound Sales Calls only.
In this article:
Who can request Vendor access to your data?

Requesting eLead Integration with CallerCX

Configuration Requirements

Linking a Tracking Line to an eLead Source and Subsource

Requirements for Calls to be Pushed

When Does Data Get Updated and When are Calls Pushed?

Example of a call that's been pushed by CallerCX
Who can request Vendor access to your data?: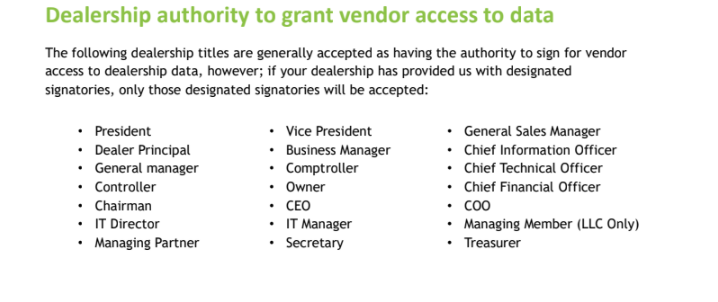 Requesting eLead integration with CallerCX:
IMPORTANT: Only complete the following steps if you are NOT currently using CDK DMS.
Contact eLead and obtain your CMF number and your eLead ID.

Fill out and sign the paper addendum (attached below) and return to Proactive Dealer Solutions.

Remember, this must be completed by someone with one of the authorized titles listed above.
Once we have all necessary forms and information, we'll submit the request to CDK - Fortellis.
Please allow up to 5 business days to complete the installation.
Configuration Requirements:
There are 2 requirements necessary for calls to get pushed to your CRM once you are notified that the installation is complete. Those are:
Phone Call Activity MUST be enabled in your CRM.
Your tracking lines from BDCC/CallerCX MUST be linked to an eLead Source and Subsource. (See below for instructions)
Linking a Tracking Line to an eLead Source and Subsource:
Login to BDC Central/CallerCX

Access Tracking Line Management under the Admin menu

Edit the Tracking Line

There will now be a dropdown menu called eLead Lead Source

Select the appropriate Source – Subsource for this tracking line

eLeads has a Source and Subsource. This dropdown uses the format "Up Type-Source – Subsource"
Requirements for Calls to be Pushed:
Call classified as a Sales call.

(At this time, only Sales calls are being pushed to eLead)

Customer's phone number must be 10 digits

The Tracking Line the call comes in on MUST be linked to a Source and Subsource

Must have Customer's First and Last Name. Unknown Callers will NOT be pushed to eLead.

(eLead does not have a way to handle these. So until they can support it, calls where the first and last name is unknown, will not be pushed, unless an existing contact with matching phone number already exists in eLead.)
When Does Data Get Updated and When are Calls Pushed?:
Dealership's Opportunity Statuses

Dealership's Employees

Dealership's Activity Types

Dealership's Sources

Dealership's Sub Sources

Calls Pushed to eLeads
Example of a call that's been pushed by CallerCX: