Speaker ID is designed to use voice biometrics to help improve Agent Identification for your inbound tracked calls. Once the user sets up their voice profile, BDC Central and CallerCX will automatically assign calls to the agents who handled them for scoring and training purposes.
To get you started, we will be sending an email to ALL current users, who have a valid email address set up in BDC Central or CallerCX, with instructions on setting up a new voice profile.
NOTE: Since we do not assign calls to receptionists, they will not be receiving this email.
The email will be titled "BDC Central - Complete Your Setup".
Speaker ID Activation Email Example: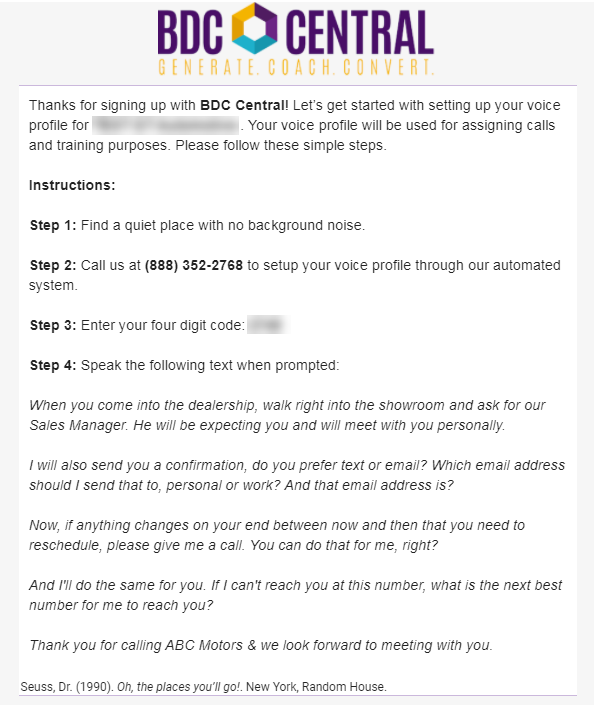 Please note that we have a large number of users in BDC Central that either haven't entered their email address into the user profile or have entered an email address that is not valid. So if you're one of those users and never received the email to set up your voice profile, a manager will have to go in and manually initiate the set up process for you. Please access the article "Speaker ID - Activating Users Manually" for assistance with this.
After our next software update, currently scheduled for the beginning of February, all newly created users will receive the set up email automatically. Until then, new users will need to have a manager manually initiate Speaker ID for them.
In order to take full advantage of this new feature, it is extremely important that you get ALL users activated as soon as possible.
As always, if you have any issues with setting up Speaker ID for a user, please submit a ticket through BDC Central, by accessing the help icon in the upper right and then selecting "Contact Support".