The purpose of this article is to explain the steps to follow when logging a LIVE Transfer Opportunity (TO).
From the Navigation Bar click AGENT CONSOLE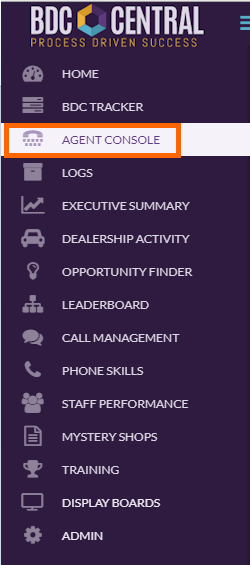 Select the DEPARTMENT/ACTIVITY TYPE as it pertains to the call

Select the DEALERSHIP/BRAND

Select the ORIGINATING LEAD SOURCE

INBOUND CALL
INTERNET
CHAT
TEXT
WALK-IN
PROACTIVE CAMPAIGN
Select the applicable LEAD LABEL
Select the Follow-up process and Campaign if applicable.

FOLLOW-UP PROCESS CAMPAIGN
Unappointed All listed for your dealership
Missed Appointment
Unsold
Select ACTIVITY:CALL

Select EMAIL and TEXT as it pertains to the activity.

Select the NUMBERS DIALED (if applicable)
Select Transfer Opportunity

Select LIVE TO

Booking appointments from Live T/Os:
When logging a LIVE TO, there are two options for creating an appointment from the LIVE TO.
Option 1:
After selecting LIVE TO, follow the steps provided above to log a LIVE TO but do not select save.
Wait for the results from the manager, once an appointment is confirmed, then select Book Appointment, Enter personal details and click SAVE.
First name
Last name
Appt Date/Time
Cell phone
Vehicle Notes
Click SAVE
Note: After selecting Booked Appointment, you may need to reselect Live TO to capture both.
Select SAVE

This will save the Live TO and Booked Appointment together in one activity.

Option 2:
After completing selections for the activity, select Live T/O and then select save.


If an appointment is booked, go to your Activity Log and locate the Live T/O activity.
From the action button, select Edit.
This opens the agent console with the previously saved activities. You can now select "Book Appointment" and enter the appropriate appointment details.
Note: After selecting Booked Appointment, you may need to reselect Live TO to capture both.
Select save, to now save the Live T/O and the booked appointment together.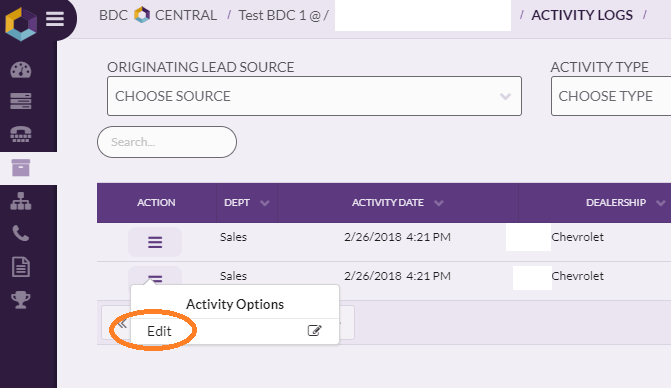 After saving a Live TO, it can be viewed within the TO MANAGEMENT Log.
Select LOGS on the navigation bar then click TO MANAGEMENT.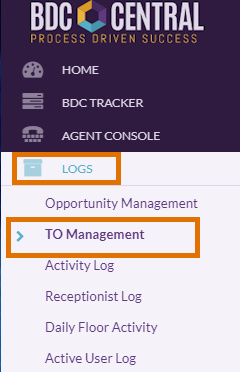 In the TO MANAGEMENT log you will be able to view the LIVE TO and the appointment that was booked on the AGENT CONSOLE.
*New - Logging a Live TO and NO Appointment is Booked
When logging a Live TO and NO appointment is booked, an agent can still add the customer's First and Last Name, along with any additional notes that pertain to the activity.