This article defines the feature selections in the Agent Console for Agent user roles
DEALERSHIP- Use to select Dealership (Note: If your BDC assignment has only one Dealership, this step will be omitted)
BRAND - Use to select Dealership brand.


Originating Lead Source - The original lead source from which the customer lead was first generated.
Lead Labels - Identifies that status of the lead
Fresh - First contact from Customer for Inbound, Internet, Chat or Text Leads
Contact Info - Select this button if the Customer's contact info was obtained on the call. 
Initial Activity - First outbound activity attempt to reach the customer. For Walk-In and Proactive Campaigns.
Follow Up Process - The activity that occurs after the Fresh or Initial activity. Identifies why we are calling the customer. Selections include the following: 
Unappointed - Follow up attempts to schedule an appointment with the customer.
Missed Appointment - The customer missed their scheduled appointment, a call is an attempt to schedule again.
Unsold - The customer showed for a previously scheduled appointment but did not purchase. (only available for Sales activities). 

Campaign - Identifies the Marketing Tool and/or Campaign Name to be applied to the Lead Source activity
Marketing Tools are pre-loaded
Campaign Names are created in Campaign Management (Manager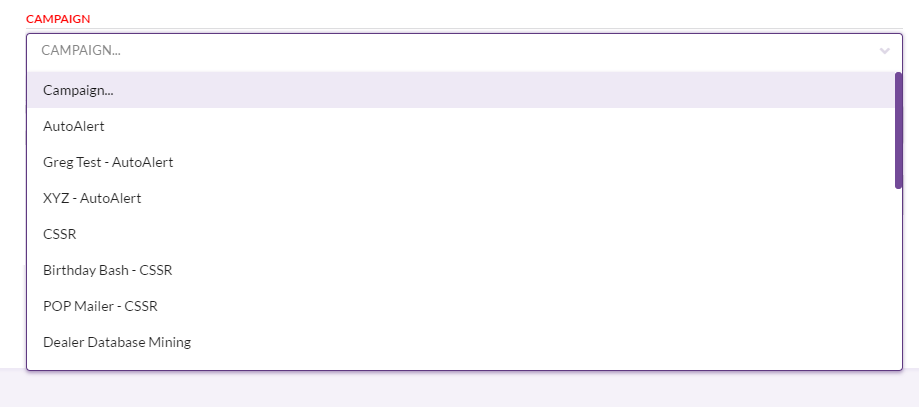 Activity - Defines the type of activity completed. Selections include the following:
Call:
Left Message - Customer was not reached, effective messaged was left
Completed - Customer was contacted
Phone Up - Inbound Fresh phone call from a customer
Callback - Customer called back after being left a voicemail message
None - No phone call was made to the customer
Email:
Email Rec'd - An email was received from the customer
Email Sent - An email was sent to the customer
Text:
Text Rec'd - A Text message was received from the customer
Text Sent - A Text message was sent to the customer. 
Numbers Dialed - Identifies the phone number type dialed.  Multiple selections are permitted.
Actions - Selections for Book Appointment and Transfer Opportunity
BOOK APPOINTMENT= Select if the appointment was scheduled.  Additional drop-down boxes will open to enter customer and appointment information. 

REASSIGN APPOINTMENT = Use

To Reassign an appointment to another BDR. This feature appears after "Book Appointment" is selected.

Reference Article: How to Reassign an Appointment from the Agent Console - BDRs
TRANSFER OPPORTUNITY= Select if call required a T/O.  

LIVE T/O= Active call was transferred to a manager
T/O REQUIRED= Select if T/O is needed and the manager was not available for Live T/O.  Enter Customer information and notes for the manager to call the customer back. 


SAVE: Select SAVE to save logged activity.
SAVE & REPEAT: Select SAVE & REPEAT if you are making several calls using the same Campaign and want to save time logging.