The maintenance release scheduled for May 13, 2019, includes the following updates and bug fixes. 
DMS Updates:
Appointments in Opportunity Management Log that have been synched with DMS Data will be indicated with a sync icon in the log next to the appointment status.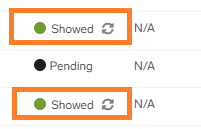 CDK Customers Only
CDK -DMS Data Updates: Every two hours data from DMS linked accounts will update in central.
CDK-Rescheduled Appointments: Appointments in BDC Central will automatically be updated to reflect the new appointment date and time.  Appointments must be DMS linked in BDC Central to update.
CDK-Updating Shows: Service appointment statuses in BDC Central will be marked as Showed automatically when an appointment has rolled from the DMS Appointment Log into an Open RO; unless the appointment has been canceled in BDC Central.  Appointments must be DMS linked to update in BDC Central.
Criteria for Linking BDCC Service Appointments to DMS:  Appointments in BDC Central are matched to appointments in the DMS if one of the following criteria are met.
RO # Matched
Vin # Matched
Name and Phone # Matched
Enhancements: 
Call Management
Time to Intended Contact has been added to provide details about the time it takes for a call to reach the intended department or person.  This differs from the Time to Answer data point which is the time it takes for the call to first be answered by either IVR or Reception.  The CMS Dashboard, Tracking Line Summary Report, and the Call Log will now include this additional data point.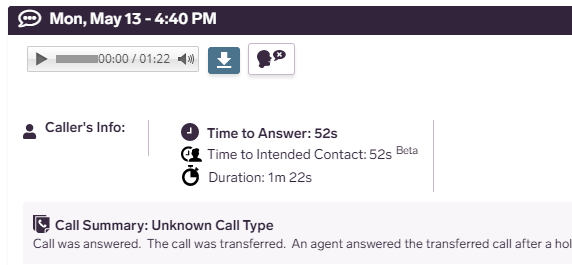 Bug Fixes
Android Users - Missed Opportunity Alerts have been updated to allow users with Android devices the ability to listen to call recordings on their device when Missed Opportunity Alerts by SMS Text are received. 
Call Log - Agent Assignment has been enhanced to improve assignment accuracy.
Agent Console - RO Number input not saving when added to the activity has been fixed. 
Receptionist Log Search bar updated to allow complete entries before beginning searches. 
Leaderboard updated to correct pagination issues. 
Appointment text message icons in the Agent Console -Appt Mgmt list have been updated to reflect correct color schemes; grey icons for text confirmation sent and green icons for customer confirmed text message.