We are excited to announce the launch of our new online business development training program, Biz Dev University, on January 3, 2019.  With nearly 300+ training videos Biz Dev University covers training for all dealership staff; including the addition of Receptionist, Marketing Manager, Internet Manager, and Floor Coordinator training.  
In this article:
BDU - Key Features for BDC Central users
BDU-CMS - Key Features for CMS users.
How to Access Biz Dev University
Important information about BDCTN training access and data records.
BDU - Key Features for BDC Central users
The BDU Training Programs are designed specifically for each user role within BDC Central. All users in the BDC Central platform will automatically be enrolled in training based on their profile user roles. 
Managers will have access to additional training courses in select BDU Course Catalogs.  New training categories provide comprehensive training for all user roles.
Business Development 101
Building a Top Performing Team
Customer Experience Excellence
Skills Mastery (includes phone and internet skills training)
Lead Management
BDU-CMS - Key Features for CMS users 
CMS user training programs will automatically be assigned based on user profile roles.  CMS platform users will have access to the following training only. 
Phone Skills Mastery for Management
Phone Skills Mastery (for users)
How to Access Biz Dev University
Access to Biz Dev University training will remain the same as for BDCTN with a single sign-on from BDC Central.  BDC Central users will log into BDC Central, then from the Menu Navigation bar select Training, then Biz Dev U.  This will open a new window where pre-assigned training will be accessible.  Additional sign-in is not needed for access to Biz Dev University.  
Please note that when creating new users or updating a user's profile, training selections will no longer be available.  Each user will automatically be assigned training based on the Role type in the user's profile.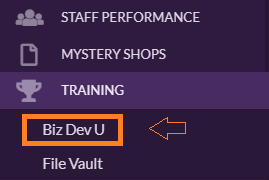 BDCTN - Decommissioned
All prior training programs and completion records under BDCTN will be decommissioned and permanently deleted as of January 2, 2019.  Any training records or reports pertaining to the BDCTN training programs will need to be downloaded prior to this date.