Update: Software Support ticketing services have been restored. Users can now submit requests for support directly through BDC Central or email Technicalsupport@bdcexperts.com for assistance. 
New & Revised Reporting
We are excited to introduce new and revised reporting to provide improvements in how data is reported for Business Development activities and overall dealership performance.  Details are provided below for each change. 
New Reporting
Dealership Performance Report
The new Dealership Performance report replaces the dashboard view of the Progress report.  The table view of the Progress will remain available under BDC Tracker Reports.  The purpose of the Dealership Performance report is to measure dealership growth Month over Month and Year over Year; including Total Solds, Gross Profits, Total ROs, Total Revenues, and Appointment Penetration from appointment based activities.
For customers using DMS connections, the data will automatically populate into this report directly from their DMS.  All other users can manually enter dealership Total Sales and RO data into the new Dealership Activity Log. This report is located in the Menu Navigation bar under Dealership Performance. Reports are separated by department and performance data is displayed by the dealership. Users can change the dealership displayed using the filters. 
The Dealership Activity log replaces both the Floor Activity Log and the Dealership Activity Report.  Both the Sales and Service departments will use this log to enter monthly Sales and Service results. For Sales, data can be entered either daily or monthly.  Data entered into this log reports directly into the new Dealership Performance Report. The Dealership Activity Log is located in the Menu Navigation bar under Logs. 
You can now view and monitor your tracking lines and minutes used, text message usage and Mystery Shop status through My Plans & Services.  This report is only visible to management level users and is located in the Menu Navigation Bar under Admin.  Overage fee amounts are included in the report; if applicable.
Reporting Enhancements
We have made enhancements to both the Comparison Report and the Progress report to refine the reporting of new lead activity, follow-up activity, and outbound call activities.  Both Total Daily Activities and Daily $ Activities have been included in the summaries of both reports.  Additionally, some Inbound and Outbound metrics have been abbreviated as follows:
IB = Inbound
OB = Outbound
The purpose of the Comparison report is to measure the activity performance across all users. 
The Summary page of the Comparison Report has been updated to report more accurate daily averages; including Total Daily Activities, Daily $Activities, ADAV, and TOs. To better understand how a user performs handling both Inbound and Outbound Call activities the performance ratios for key Call metrics will be the primary metric displayed.  Total results for Appointments, Shows, and Solds (for Sales) will also be displayed by performance ratio results.  
The By Lead Source page of the Comparison Report has been updated to improve reporting of lead activity and results for both new leads and follow-up lead activity.  For continuity in the report, all Fresh and Initial Lead activity will be identified as New Leads. 
The purpose of the Progress Report is to measure the activity performance for users across periods of time.  Like the Comparison Report, the Progress Report will summarize key performance metrics for average daily activities, Inbound and Outbound Call Mix, Call Rates and Total Results. The reporting by Lead Source will use the same metrics as the Comparison report. 
For Sales, Sales Dept. Close Ranking was relabelled to Sales Department. Customers with DMS integration will have additional information for DMS Solds and Average Gross Profit per Salesperson included in this report.  
For Service, customers with DMS integration will have additional information for ROs (CP & W) and $ Per RO.  The ranking order will be by highest to lowest $ Per RO amounts. 
As we move forward with DMS integration, some data labels have been updated to provide a clearer understanding of the origin of the data being reported. 
Please note the following label changes:
Old Label: Non-Appt Solds     New Label: Claimed Solds
Old Label: Solds      New Label: Appt-Based Solds
At this time, only the new reporting for Dealership Performance, Comparison, and Progress Report have been updated with both label changes.  Updates to all other reports will be available in future release dates. 
Coaching Programs 
New automated Coaching Alerts have been added for Phone Skills. Management can now customize automated coaching alerts for both Activity-based alerts and Phone Skills alerts. This includes turning on and off specific alerts and setting alert frequencies. The Coaching Program management screen is located in the Menu Nav bar under Admin.
Coaching Alert Emails
Agents and Sales Reps getting coaching alerts have the option to receive by email daily and/or weekly coaching alerts.  For Agents, this feature can be turned on by management in the agent's profile.  For Sales Reps, Coaching Alerts emails are on by default to be sent out weekly.  Management of the email alert preferences is in the Notification section of user profiles.   
Call Management Solutions
 Call Log Agent Identification Enhancements
The Agent Identification feature in the Call Log has been updated to allow management to decline the automated agent identification if the preselected agent is not a match.  Selecting the red thumbs down icon changes the call identification to Agent Not Identified.  Selection of the correct user from the drop-down selection box remains available.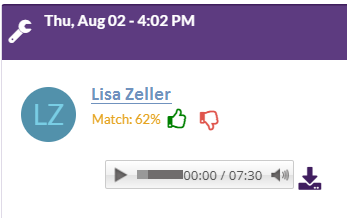 Callback Tracking Lines to be decommissioned:
Accounts currently using Callback Tracking lines will not experience any disruption in services.  Moving forward, creating any new Callback Tracking lines will no longer be available. 
Caller's Info - DMS Connections
When a Caller's number matches information found in the DMS, the Call Log will display the Caller's Name and Number with the option to view the customer's contact information; including address, additional phone numbers and emails, if available.