This article explains the information included in the Receptionist Log.  The Receptionist Log tracks all Inbound calls logged by all users in the organization.  
To access the Receptionist Log, from the Menu Navigation Bar select Logs, then Receptionist Log.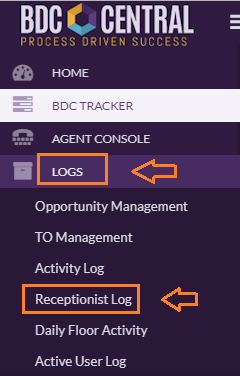 The Receptionist Log opens by default to all assigned dealerships and the current month-to-date timeframe.  The primary Filters can be selected to adjust the dealership(s) and timeframe as needed.  The Search Bar and Secondary Filters can be used to filter for more specific data.  

The Secondary Filters are defined as follows:
Call Type - Department Type (Sales, Service, Parts, Finance, Other)
Inquiry Type - Call Classification Type (Phone Up, Follow-Up, Status Check, CSI)
Handled-By - Identifies who received the call
Department Transferred - Identifies the department the call was 
Transferred To - Identifies the user who received the transferred call
The bar graph represents the number of calls for each Call Type - Inquiry Type.  Hovering over the bars reveals the department transfer information and total calls transferred to that department. 



The pie graph represents the percentage of each Call Type - Inquiry Type compared to total calls.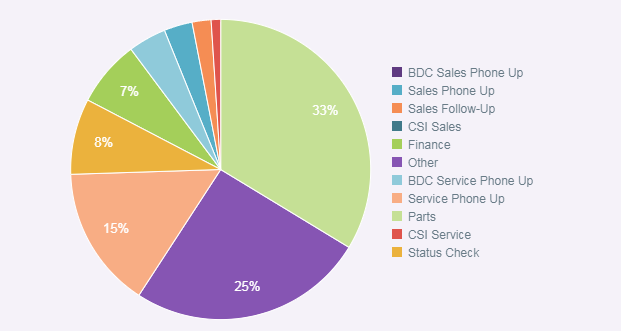 The Receptionist Log table provides specific details for the following:
Date - Date and time the activity was logged
Call Type - Inquiry Type - Department type and Call classification type
Handled-By - Identifies user by name
Dealership - Identifies the dealership the call was assigned
Department Transfer - Identifies the department the call was transferred to
Transferred To - Identifies the user the call was transferred to