This article will walk CDK customers through authorizing BDC Central to have access to their CDK DMS data.
NOTE: Only certain Dealership Titles are authorized to provide us access to your DMS data. Those authorized titles include:
● President
● Vice President
● General Sales Manager
● Dealer Principal
● Business Manager
● Chief Information Officer (CIO)
● General Manager
● Comptroller
● Chief Technical Officer (CTO)
● Controller
● Owner
● Chief Financial Officer (CFO)
● Chairman
● CEO
● COO
● IT Director
● IT Manager
● Managing Member (LLC Only)
● Managing Partner
● Secretary
● Treasurer
1) Log completely out of DealerSuite, if already logged in, and close all Internet browser windows. Do not log into DealerSuite before clicking on the PDS eStore URL (Step 2).
2) Click, type or copy/paste the following Proactive Dealer Solutions eStore URL:
https://portal.dealersuite.com/eStore/faces/pages/customer/index_3PA.jsp?store=ProactiveDlrSolution
3) Enter your existing DealerSuite ID and password, then click "log in." If you do not know your DealerSuite login and/or password, please use the "Forgot Login" or "Forgot Password" options on the DealerSuite login page.

*If you are still having issues logging in or you need a login created, please use Service Connect on your CDK desktop and select DealerSuite as the "area of impact" to open a case or you can select "Chat with Support" to connect with a DealerSuite associate.
4) Once logged in, click "Click here to view available CMF(s)…." at the bottom of the page.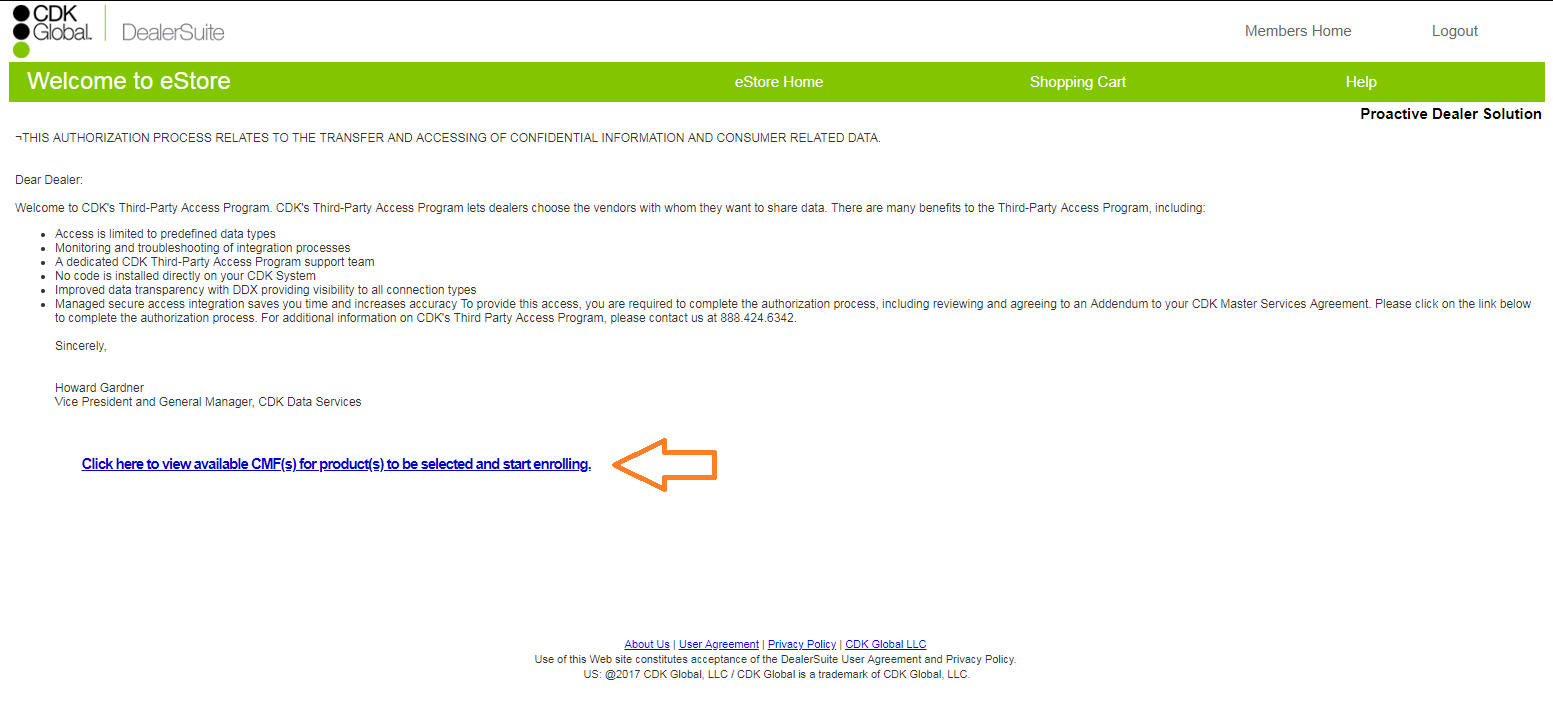 5) You will see the CMF number(s) that are authorized and unauthorized for your User ID. This is for information only; you will be able to select specific CMFs later in Step 10. Continue by clicking "Start Enrolling."

6) Click on "Addendum PDF." Please open and review before proceeding. The information is for your review and includes a summary of the data the partner will be able to access.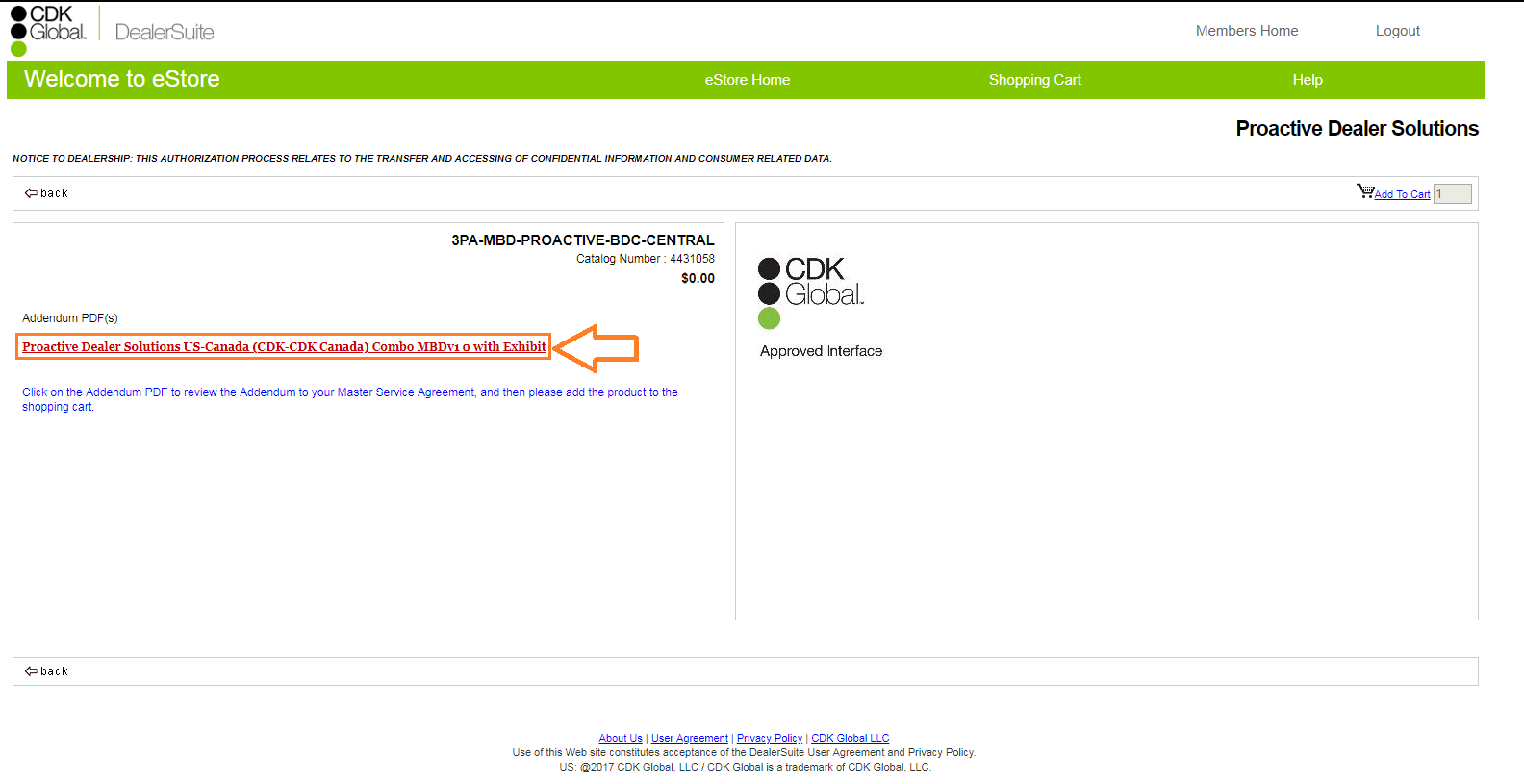 7) Close the Addendum PDF.
8) Click "Add to Cart" on the upper right side of the screen.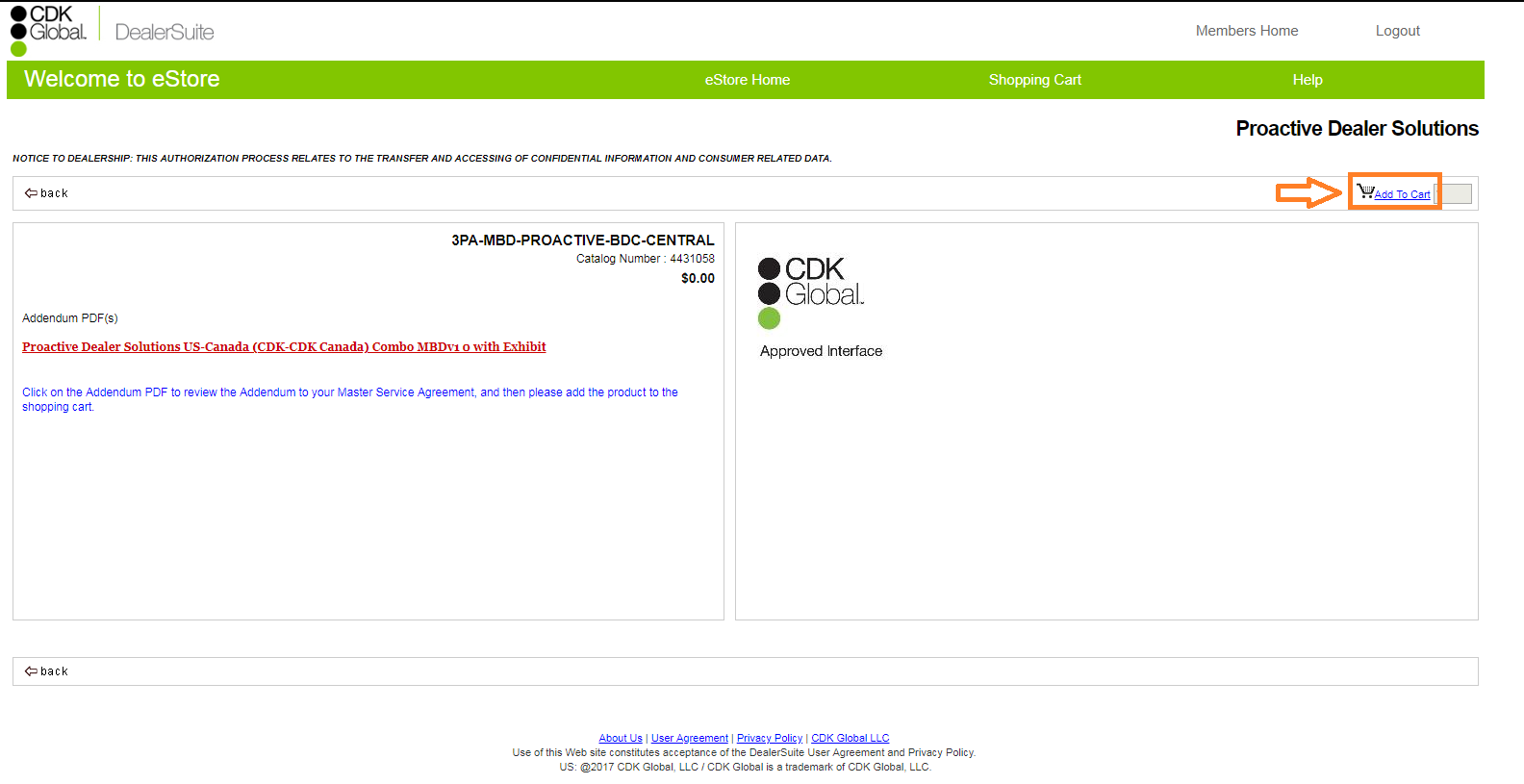 9) Confirm the quantity for your order and click "Check Out." There is no charge for this authorization process and your purchase will display a price of $0.00.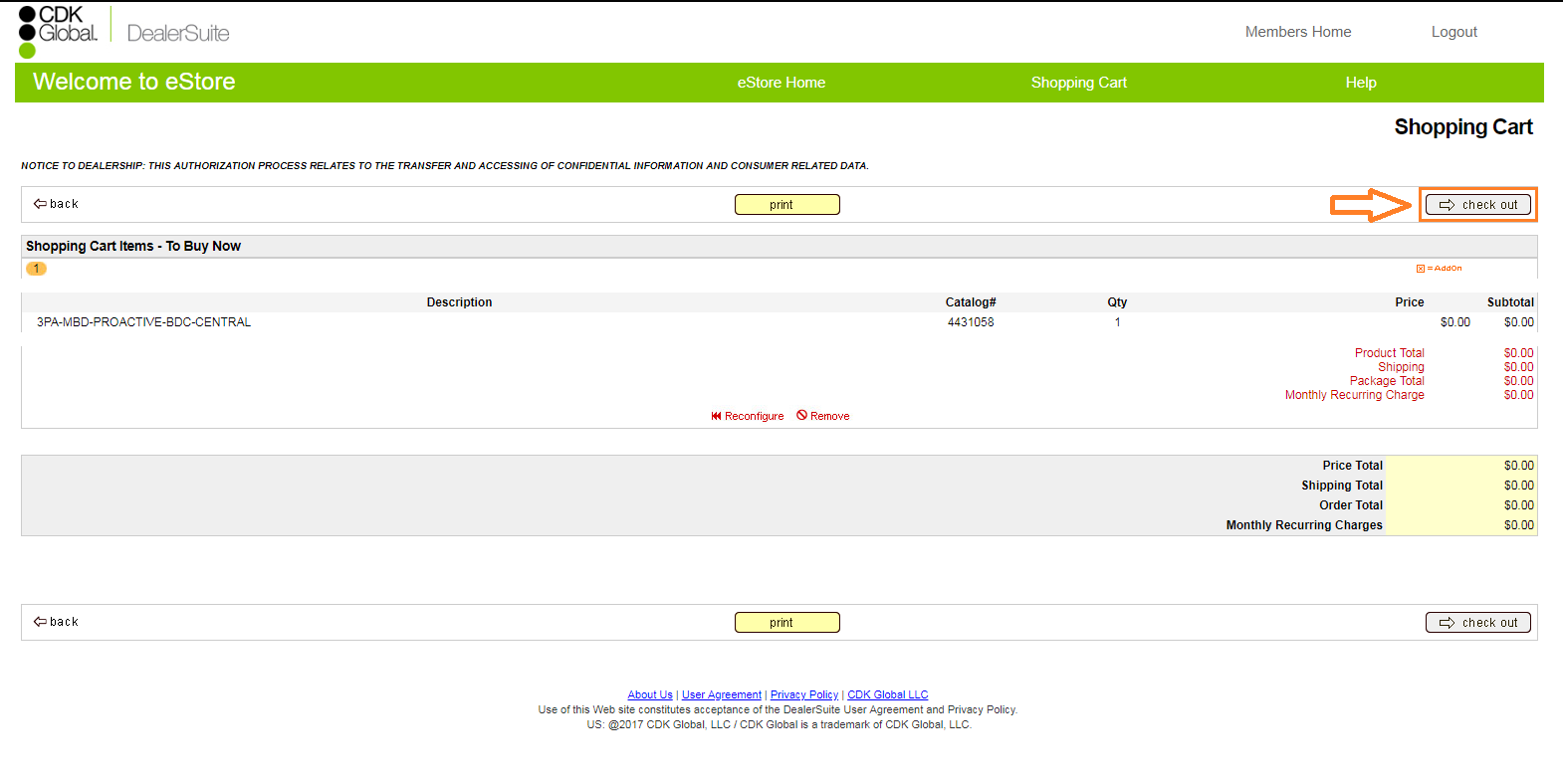 10) Review your shipping and billing information, and enter the required information. Select the CMF(s) you wish to enroll. If you are unable to select your dealership's CMF number, please open a case in Service Connect and select DealerSuite as the "area of impact" to have the CMF number added to your login. Click "Continue."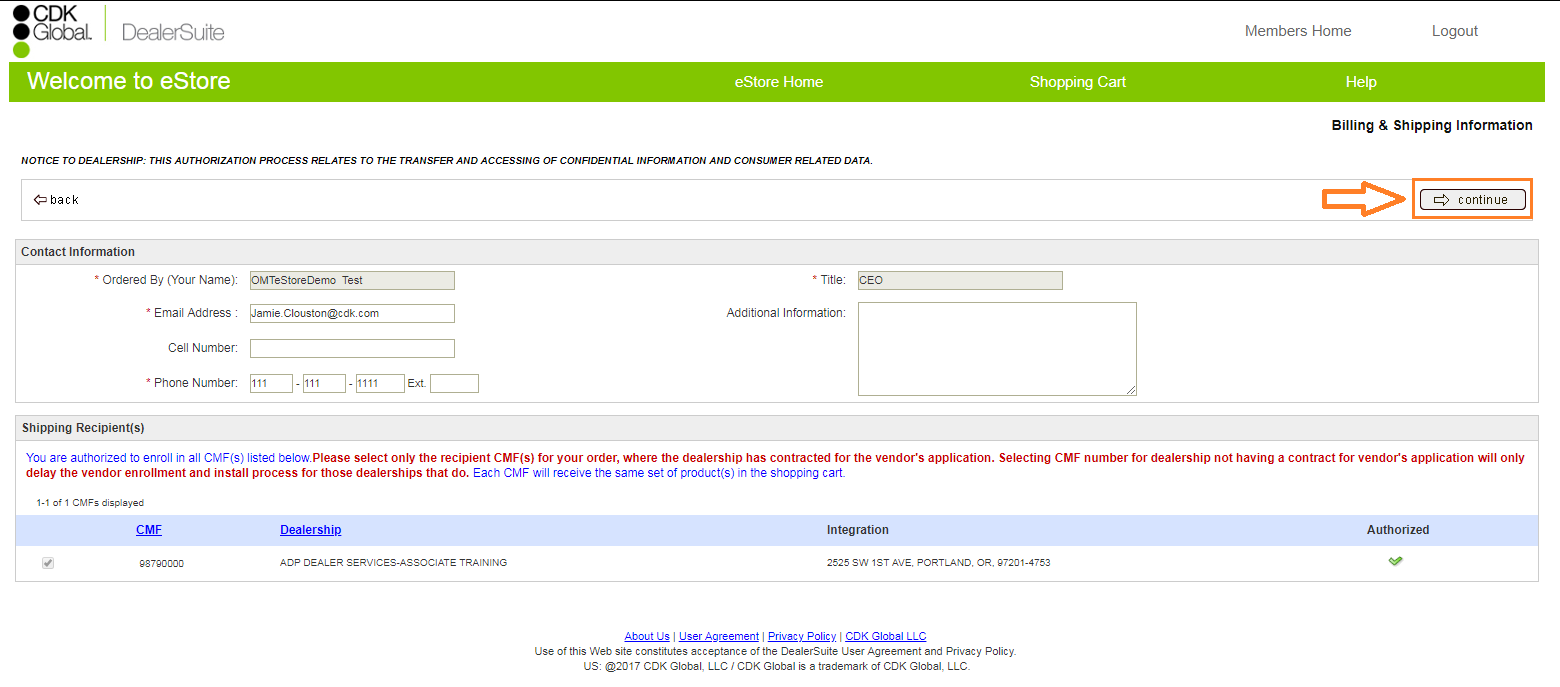 11) Check "I Accept the above Schedule to the MSA" and then Click "Place my Order Now" to submit your order. A confirmation of your pending order will be emailed to you and PDS.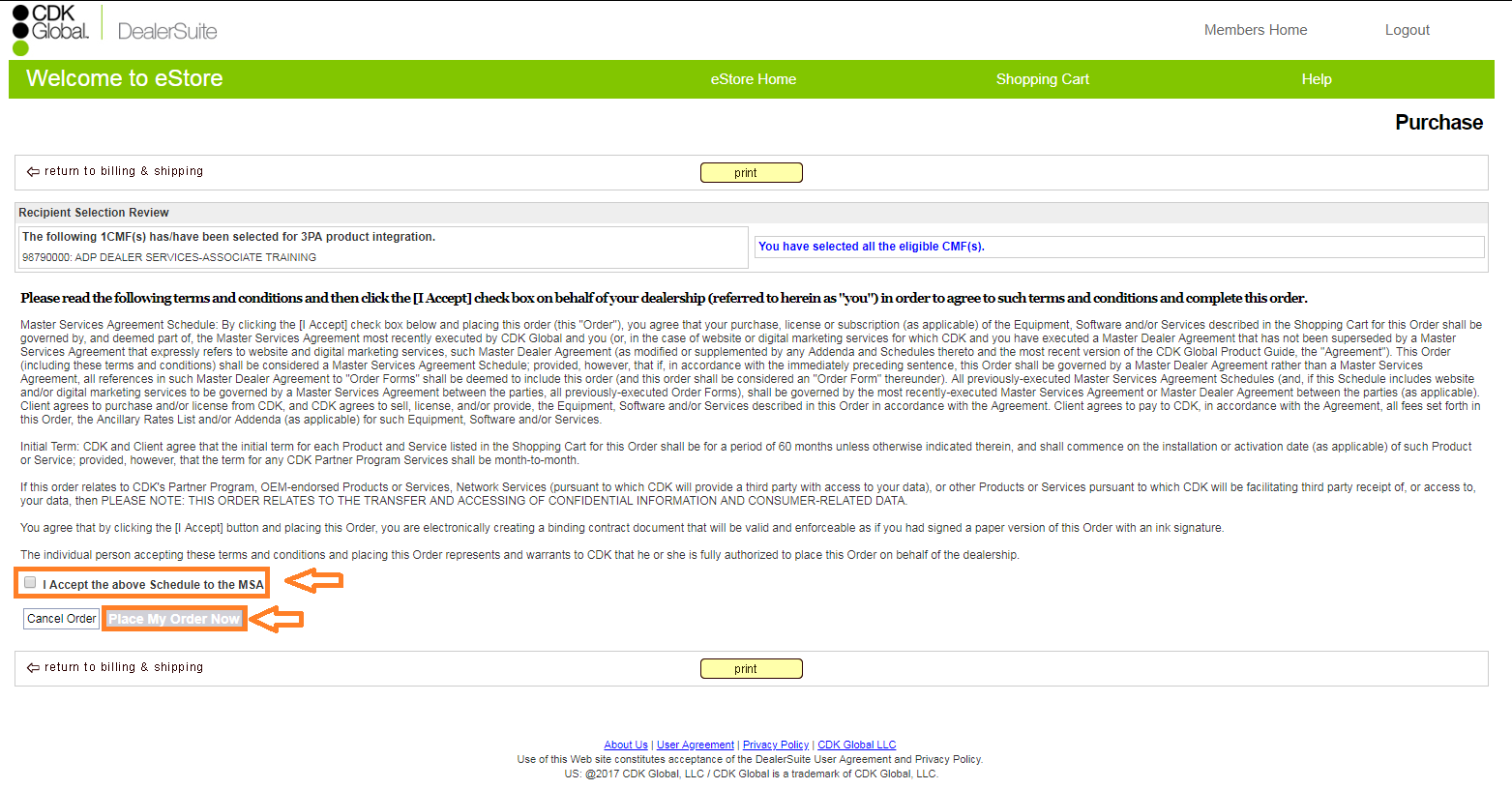 12) Click "Continue and Confirm Account Access" to approve the accounts that the PDS will need to access.
13) Click "Edit DMS Accounts" to select and authorize each location's account access. A free text field is available if the accounts are not listed. The accounts listed under "CDK Data" is only listed as a guide and does not authorize account access.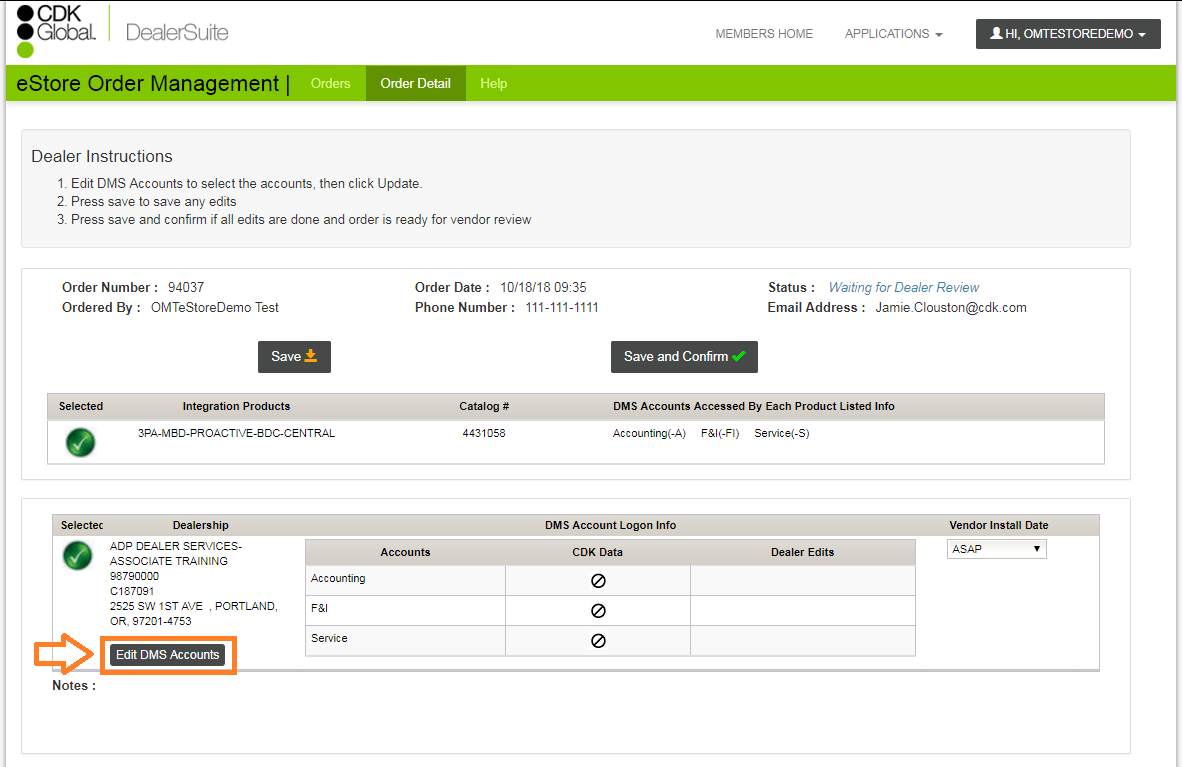 14) Select the correct accounts for your dealership from the list of accounts and click "Update." Only one account may be selected from each Account Type.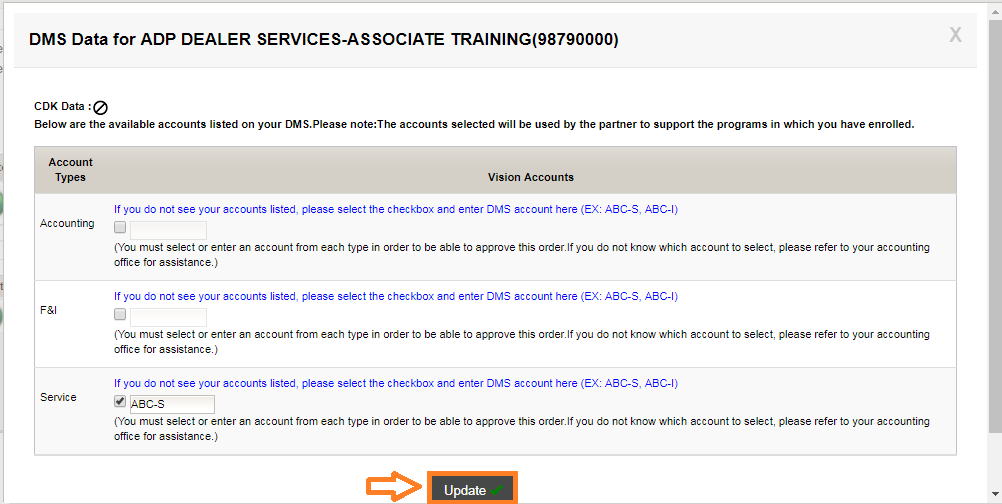 15) When your edits are complete click "Save" if further changes are necessary or "Save and Confirm" if changes are complete.
*Please note that clicking "Save and Confirm" will prevent any further edits to this pending order.
16) You can view your order status at any time by selecting "Orders" from the eStore Order Management page. This page can be accessed through the link in the pending order confirmation email.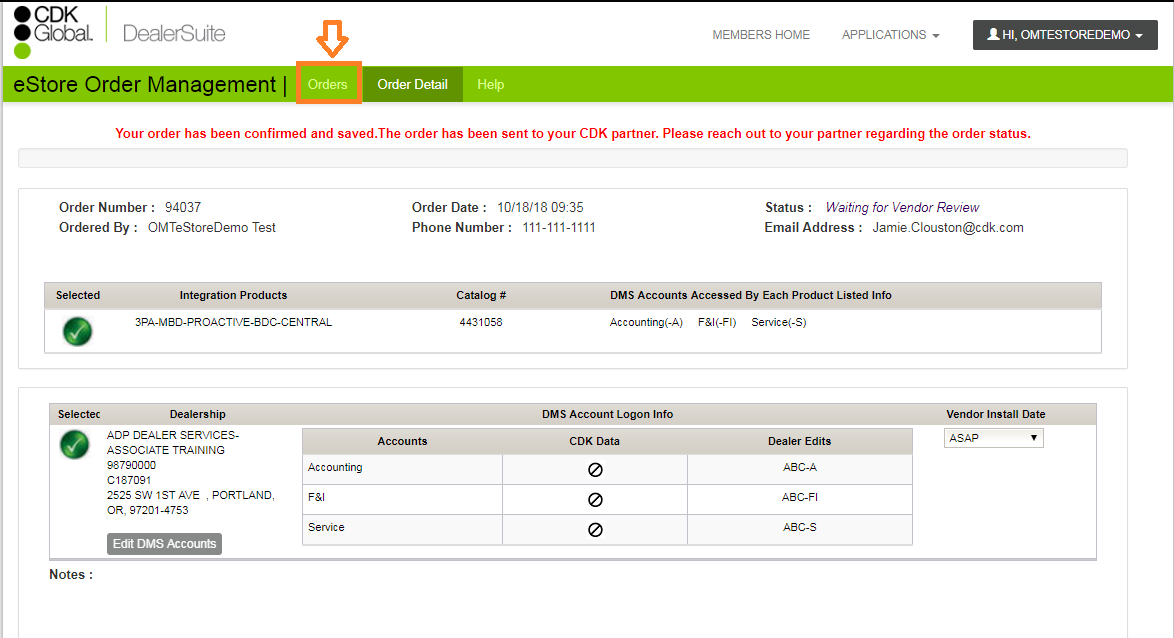 17) Log off eStore by logging off DealerSuite. You're finished!
Once PDS has approved the request, which typically can take 1 to 2 business days, CDK will do their install to integrate with our system. This can take up to 5 business days. Once this has been completed you will be notified.