All management level users in BDC Central have access to reporting for student training progress for Biz Dev University. This article explains how to access reporting and view training progress for students.
How to access Biz Dev U reporting:
In BDC Central, all Manager level users have an additional link labeled "REPORTING". This link provides the manager with access to the reporting for their organization.
Clicking on the Reporting link opens the Student Progress dashboard for Biz Dev U.

Students in your organization are divided into groups. There are three types of groups:
ACT = Parent Account: all students are in this group
BDC = Accounts/BDCs: all users assigned to the BDC
LOC = Dealership: all users assigned to the Dealership
How to view student progress reporting: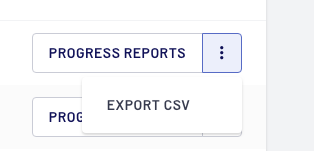 After locating the group you want to view, you can view the progress for students assigned to that group by clicking on Progress Reports. To export the report, click on the three dots and click on Export CSV. Your report will be emailed to the address in your profile.